Featured: The real Frank Abagnale, Jr., now a resident of Charleston, SC.
Q:  Tell us how Catch Me If You Can became a book and later a movie.
A:  Actually it was Johnny Carson who suggested I turn my story into a book.  I had appeared on the Carson show several times, and he put me in touch with an agent and at 27, my story became a book.  It is still in print and there are editions in more than 39 languages.


Featured:  (Left to Right)  Frank Abagnale, Jr. and TV host Johnny Carson on The Tonight Show, 1978.  The segment, scheduled for six minutes, lasted 20.
Q:  What about the movie?
A:  It is absolutely an amazing story—one that perhaps should be its own book!  Again, after an appearance on Johnny Carson, Norman Lear and Bud Yorkin bought the rights and the rights were sold and resold over the years moving from studio to studio until finally years later they found their way to Dreamworks with Steven Spielberg slated to direct.  It was worth the wait.
Q:  Did you get to meet the stars?
A:  Yes, I spent a lot of time with Leonardo, visiting him at his home where we went over in great detail my past, my habits and mannerisms.  He was fun to be with and a great host.  Tom Hanks was also very kind to me and my family, always in a good mood and a lot of fun to work with.  By the way, I made a cameo in the film.  I'm the French police officer that arrests Leonardo.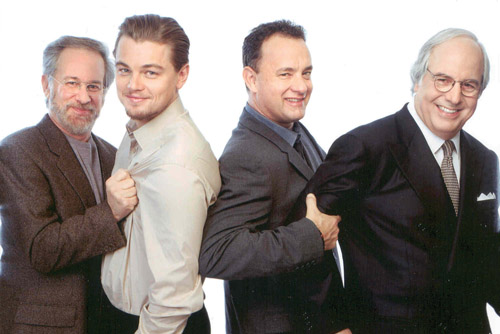 Featured:  (Left to Right)  Steven Spielberg, Leonardo DiCaprio, Tom Hanks and
Frank Abagnale, Jr. in a publicity shot for Catch Me If You Can (the movie) in 2002.
Q:  Were you involved with the musical?
A:  I wasn't directly involved although I was invited to an earlier showcase when the show was being put together and later of course, I attended the opening as well as many productions around the country.  I'm very excited we will now have one right here in my back yard.
Q:  How accurate is the film and musical to your real life.
A:  I'd say it's about 80% accurate.  Spielberg told me as this was getting started that you can't squeeze five years of someone's like into a two hour film without taking out some details.  The film changed my family structure, some of my impersonations, omitted prison time I served in Sweden and my escape from Federal custody.
Q:  Have you remained friends with the FBI Agent who caught you?  He's called Hanratty in the film and musical?
A:  Oh, yes, his real name is Joseph Shea, and we've remained in touch over the years, and he's gotten to see me turn my life around and watch my children grow up.
Q:  While you're famous for your exploits from age 16-21, you've had a great "second act."  Can you tell us a little bit about that?
A:  I and my wife of 38 years now make our home in Charleston.  I am also the proud father of three sons and grandfather of four.
After serving 5 years for my youthful exploits, I was paroled and for the past 39 years, I have been a consultant to the FBI helping train thousands of agents at the FBI Academy in Quantico, Virginia, and in the 56 Bureau field offices across the country.
My work has evolved over time.  Initially I worked with high security printers around the world on secure items such as passports, checks, car titles and birth certificates.  For the past ten years, I've worked with The 41st Parameter (www.41st.com) on technology that combats cybercrime.  Today this technology is used by eight of the ten largest U. S. Banks, all the major airlines and many retailers from Amazon to Neiman Marcus.  The 41st Parameter was recently sold to Experian to take this technology worldwide.   I currently work on retainer to companies like Intuit, LexisNexis and Experian.  I have also written five books on crime.


FUN FACT:  The photo above features Frank Abagnale, Jr. speaking to all 50 state Attorneys General at the winter meeting of the National Association of Attorneys General in Washington, DC on Tuesday, February 24, 2015.  Mr. Abagnale also was the keynote speaker at the summer meeting of NAAG held in Fort Lauderdale.  Mr. Abagnale talked about cybercrime, fraud and other white collar crimes.
Charleston Stage's production of "Catch Me If You Can: The Musical" runs April 3 – 26, 2015, at the Historic Dock Street Theatre.  For tickets, call (843) 577-7183 or purchase online by clicking here.  See you at the Dock!